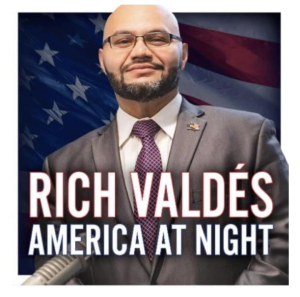 Rich Valdés is a seasoned media professional with extensive experience in multiple media formats including radio, podcasting, television, and print journalism as well as a demonstrated passion for education and policy.
Valdés assumed the honorable position of hosting "The Jim Bohannon Show" when Bohannon stepped down in October 2022 after 40 years behind the mic. He had also been an associate producer and regular guest host of "The Mark Levin Show," the second largest nationally syndicated live daily conservative talk radio program in the US. A conservative commentator, Valdés has been a frequent opinion contributor to Newsmax TV, a conference speaker at TEDx, and a regular columnist for The Washington Times, penning "A-List on Americanism," which examined current events and social issues through the lenses of politics, entertainment, and popular culture.
Valdés' career also includes positions as the spokesperson and head of public relations for Somerset Christian College and Pillar College; founder and school board member of BelovED Community Charter School in Jersey City, NJ; appointee to the Governor's Advisory Committee at the New Jersey Center for Hispanic Policy Research & Development in 2017; and Advisor to President Trump's National Diversity Coalition. Previously, Valdés was the Producer and Director of Special Operations at Project Veritas.